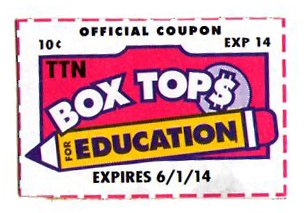 Please continue to save your Box Tops for Books!
Box Top Information and a Collection Bag were available during our 1st Day of School Assembly. If you didn't receive your information or bag, please send an email to our librarian (lynde.davis@fcstn.net) and she will send one home with your child.
Each six weeks we will have a turn in day to see which class brings in the most Box Tops!!
The winning class will be announced during the six weeks assembly and receive a special treat.
Box Top Turn in Dates for 2017-2018:
September 18
November 6
December 20
February 21
April 11
May 16